Perspective: On This Day In Iraq -- May 16th edition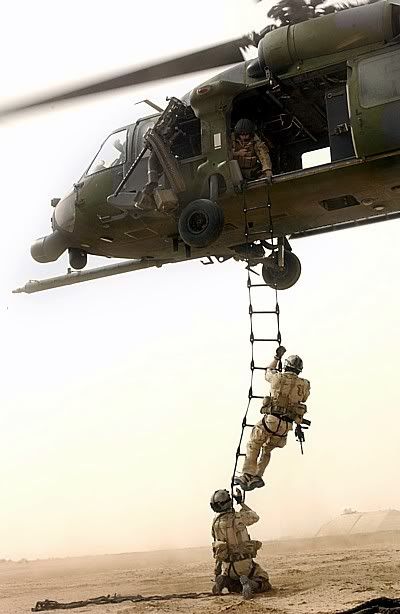 May 16, 2004: An Air Force HH-60G Pave Hawk from the 64th Expeditionary Rescue Squadron deploys pararescuemen at Balad Air Base
May 16, 2002:
Oil melts enmity between Syria and Iraq
DAMASCUS – Iraq is turning old enemies in the Middle East into new friends, seeking regional allies in a bid to complicate Washington's plans to oust Saddam Hussein.
Using smuggled oil as a lever, say diplomats here, Baghdad is reversing 30 years of hostility to Syria and has boosted its influence in Damascus to unprecedented heights.
Though Syrian officials deny the country is buying Iraqi oil in breach of UN sanctions, they acknowledge that legal trade with their neighbor and historic rival has melted old enmities.
"We can say that our relations with Iraq are back to normal," says Adnan Omran, Syrian minister of information.
Syrian trade with Iraq under the oil-for-food program permitted by the UN reached an estimated $1 billion last year, double the 2000 figure. The two countries signed a free-trade pact last year, and resolved a decades-old dispute over the waters of the Euphrates River that had brought them to the brink of war in 1975.
Western diplomats, however, say the ties are even stronger. They suspect Damascus of buying another billion dollars' worth of Iraqi oil illegally last year, providing much needed funding to Saddam Hussein's regime. And there have been reports that Syria is brokering the sale to Iraq of a sophisticated Ukrainian military radar system.
Read the rest at the Christian Science Monitor
May 16, 2003:
Iraqi troops say U.S. owes them back pay -- Bitter soldiers threaten attacks on American forces, sabotage
The 100 or so former military officers standing in the midday sun didn't look like much of a menace. But the threat was there: Pay up, or else.
As the temperature soared well above 100 degrees, they waited sullenly at the entrance to the former presidential palace compound, where the U.S. occupation government headquarters are located behind coils of razor wire.
"We're not asking for the Americans' money," said Lt. Gen. Muhammed Abdelkadim, a former commander of the Baghdad air defense. "It's our money. It's our pay."
None of the nearly half-million members of Iraq's military, he said, had been paid since March 1.
But Abdelkadim and his colleagues, a dapper group in neat slacks and pressed shirts, are likely to be disappointed. From the sound of recent American statements, they may be unemployed for a long time.
On Wednesday, U.S. officials said they will not pay past or current salaries of the former army, secret police and presidential guard. The move essentially disbands those forces -- but does not provide any formal means of disarming the ex-combatants.
The risks of such a policy were apparent Thursday as Abdelkadim and his colleagues stood in protest outside the U.S. compound. One of their members had been allowed through the razor wire to deliver a petition. They expected prompt action, he said, in the matter-of-fact tone of someone who doesn't expect to be disobeyed.
Informed of the American announcement that former civilian government workers would soon be paid but military members would not, Abdelkadim spluttered. The men around him exploded.
"The Americans can't cheat us," yelled Lt. Col. Basem Al-Lamy, another former officer of Baghdad's air defense.
"We couldn't do anything against American technology during the war," said Al-Lamy, referring to the U.S. missiles that made mincemeat of Iraqi anti- aircraft defenses. "But now, there's nothing between me and the U.S. soldiers on the street. Their technology won't stop me from killing them."
"We thought the Americans were going to get rid of our oppressor," said Col. Nihad Al-Saadi, explaining why so many of Saddam Hussein's soldiers chose not to fight.
"But now we see they just wanted to take our money. What will we eat? We will have no choice but to fight."
Some of Al-Saadi's former comrades may already be doing just that.
On Wednesday, the U.S. commander in Iraq, Lt. Gen. David McKiernan, said loosely organized groups of "regime elements" have waged a campaign of attacks on U.S. troops and sabotage of the country's tottering infrastructure.
The officers' unhappiness is one more example of how sentiment on Baghdad's streets has swung dramatically in recent weeks from gratitude to anger. With increasing bitterness, residents complain about the Americans' failure to bring the city back to anything resembling normality.
Gangs still roam freely, looting, stealing, mugging and kidnapping. Power blackouts are common and gasoline is scarce. Most businesses remain closed and nearly every government office is a burned wreck.
Mobs of unemployed people gather daily around the U.S. compound and around the Palestine Hotel, as former laborers, scientists, clerks and soldiers clamor for jobs.
"The Americans don't realize what they're playing with," said Abdelkadim. "The people are desperate. What will the people do if a leader comes again to fight against the Americans? We will follow him."
Read the rest at the SF Chronicle
May 16, 2004:
This is bigger than Iraq
In an interview with The Independent last week, the Prime Minister remarked of the situation in Iraq that "we are going through a difficult time ... Despite the appalling stuff about prisoner abuse, we are trying with the majority of the Iraqi people to get the country on its feet." This was an authentic reflection of the Government's response, in public and private, to what has happened in Iraq in the past fortnight. Ministers acknowledge that the photographs from Abu Ghraib represent a serious setback. But they are not persuaded that they represent much else. The message is: heads down, steady as she goes, no breach with the Americans.
In fact, the Abu Ghraib scandal is a perilously symbolic moment, significant far beyond the narrow question of how Iraqi detainees are treated in coalition-run prisons. As Anne Applebaum writes here today, these shocking images have triggered a neurotic bout of self-examination in the United States, as the American people have gazed into the mirror and seen their collective self-image desecrated by revoltingly priapic prison guards. It was always said that Saddam Hussein's family treated torture as a recreational activity rather than a means of gathering information. So what, precisely, distinguishes that from the vile antics of these grinning American servicemen in Abu Ghraib?
The security situation in liberated Iraq, meanwhile, is scarcely what it was meant to be a year after the fall of Saddam. President Bush promised that the toppling of the dictator would make the world a safer place for Americans, but that pledge must offer little comfort now to the bereaved family of Nick Berg, the US contractor in Iraq decapitated by Islamic fundamentalists. The prospect of an American garrison occupation without end - whoever notionally holds sovereign power in Iraq - stretches grimly ahead of the US military. Thousands more British troops, too, are to be committed to notoriously unstable regions of the country. It is not hard to see the collective will of the West to persist with this campaign withering rapidly amid chaos, mounting casualties and - above all - a sense of futility.
Read the rest at the Telegraph
May 16, 2005:
Rumsfeld's military tunnel vision
Donald Rumsfeld apparently stopped learning from U.S. experiences in Iraq during the spring of 2003, when the war supposedly ended.
The defense secretary signaled full speed ahead last week on his plan for transforming the U.S. military into "a smaller, more lethal and nimble joint force capable of swiftly defeating an adversary throughout the depth of the global battlespace." And why not? Saddam Hussein's army fell quickly to a force far smaller than the one needed to dislodge it from Kuwait 12 years earlier. U.S. casualties were minimal. The campaign proved the efficacy of mobile, technologically advanced forces supported by massive air power.
The problem is that the war didn't end in the spring of 2003. It resurfaced as a guerrilla and terrorist conflict that American forces still lack the manpower and capabilities to subdue. Rumsfeld was warned, but he refused to plan for anything other than the quick, easy, cheap war and occupation he so confidently predicted.
Now, two years after President Bush's "mission accomplished" appearance, the U.S. death toll is at 1,613 and rising. Congress has allotted an additional $80 billion for this year's military operations, with billions more to come.
Attacks have killed more than 420 Iraqis in the two weeks since it announced its democratically elected government, and military officials say the insurgency can be expected to drag on three to 10 more years.
Read the rest at the Roanoke Times
May 16, 2006:
Policies on mentally troubled troops questioned

When Army Sgt. 1st Class Mark C. Warren of La Grande, Ore., received a diagnosis of depression soon after his deployment to Iraq, a military doctor handed him a supply of the mood-altering drug Effexor.
Marine Pfc. Robert Guy, of Willards, Md., was given Zoloft to relieve the depression he had developed in Iraq.
And Army Pfc. Melissa Hobart of East Haven, Conn., took the Celexa she had been prescribed to ease the anxiety of being separated from her young daughter while she was deployed to Baghdad.
Each is among a growing number of mentally troubled service members treated in combat with potent psychotropic medications but with little or no medical monitoring or mental health counseling.
Warren, 44, and Guy, 26, committed suicide last year, according to the military. Hobart, 22, collapsed in June 2004; no cause has been determined.
Interviews with members of the military, their families and medical experts, along with autopsy and investigative reports obtained by The Hartford Courant, reveal that the military's emphasis on retaining psychologically unfit troops has had dangerous, sometimes tragic consequences.
The practice is at odds with the military's medical guidelines, which state that certain mental illnesses and medications are incompatible with deployment to a combat zone.
It also conflicts with statements by top military health officials, who have indicated to Congress that psychiatric drugs are not being used to keep service members with serious disorders in combat.
Military officials say their use of medications is judicious, and they argue that keeping troubled troops close to the front lines is in the service members' best interests because it helps them avoid the stigma of abandoning their duty.
Many outside the chain of command disagree.
"It's best for the Army," said Paul Rieckhoff, a former platoon leader in Iraq who said he was overruled when he tried to have a mentally ill soldier evacuated. "But find me an independent mental health expert who thinks that that's a proper course of action."
Read the rest at the Baltimore Sun